I just cannot seem to make it work for my mouse at all. I am trying to bind the side buttons to Ctrl and Shift for use in Starcraft 2, but no matter what I do nothing happens.
X-Mouse Controls. Donate $5 now Donate $25 now Donate $100 now More options. Windows utility to enable or disable active window tracking, raising and also the delay in milliseconds. This is known as x-mouse behavior or focus follows mouse. X-Mouse Button Control currently supports Windows XP, 2003, 2003 R2, Vista, 2008, 2008 R2, 7, 8, 2012, 8.1, 2012 R2 and 10. The app was originally designed to run natively on x64 editions of Windows, although it is fully supported on 32-bit editions as well. System requirements: a mouse (and driver) which supports 5 buttons.
X Mouse Button Control Dreadnought Band
X-Mouse Button Control is a software solution that allows you to reconfigure the buttons of your mouse. The user interface of the program is based on a standard window in which you can add, edit. X-Mouse Button Control, provided as freeware, allows you to remap your mouse buttons. You are able to provide an application-specific mappings, which means one application can use the mouse differently from another. This is useful for games which do not inherently support the extended mouse buttons because you can map keys to each button.
I am running windows 7 64-bit
version 2.0 of XMBC
Mouse is steelseries Xai, which I believe has 9 programmable buttons
driver version of the mouse is 1.4.2
I have the steelseries mouse configuration tool installed for this mouse
No matter what I do the program does not seem to work for me. Through the driver software that comes with the mouse, the side buttons cannot be held down and when held they simply act as if they had been pressed and released immediately. You can make a macro that delays that so that it counts as a keyboard button being held down for X seconds when you press the button, but that is not nearly the amount of control that I would like to have.
I came across your software and believed it was my saving grace since this mouse is literally perfect for me other than this very irritating problem. The problem is, I cannot get XMBC to work.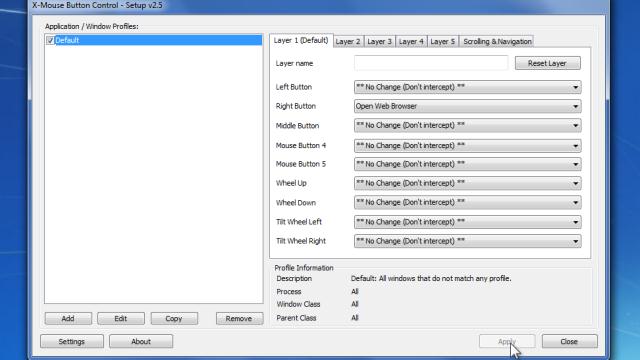 For the record all I want to do is map the 2 thumb buttons on the left side of the mouse (for a right-handed person) to shift and ctrl so that I can hold down the side button for either one and have it count as holding the key until I release the side button; which should then release the key it is bound to.
Please help I really like this mouse but this is just a dealbreaker for me and there is nothing else like this mouse out there right now.