Due to many forms of online threats nowadays, major tech companies come up with security protection for their customers and users. One of such ways that Google and its partners use to add security to Android devices is called Factory Reset Protection or FRP. In order to work, FRP must be activated on the device first. This is done by adding a Google account on the device. The registered Google credentials then become the way to unlock FRP. Once activated, the target device will then ask for these credentials after a factory reset. This makes it difficult for thieves to use the device since they won't be unable to unlock it. Unfortunately, this can also be a double-edged sword as the same security protection can make life difficult for users who forget their Google credentials after a factory reset, or for those who buy pre-owned devices with FRP enabled on them.
This article is intended for those looking for ways to bypass FRP ( Factory Reset Protection ). If you're one of them, go ahead and check the different methods to try below.
This video shows how to bypass frp or google account verification in samsung note 5 after reset.this method works wihtout pc.download links:apex louncher. Method 1: Bypass FRP without a computer by FRP Removal Online Service Samsung reactivation unlocking service would be a good alternative to the computer-enabled way to unlock your FRP lock. The device is old, but method is new to Bypass Google Account Galaxy S5 without any PC, if you have done factory reset to your device accidentally, and you don't remember your Samsung account, then you are supposed to follow below steps to get back your Samsung Galaxy S5 device.
Use Emergency Call to Bypass SAMSUNG Activation Lock. This is a tricky way for SAMSUNG abnormal factory reset bypass by using Emergency call: Step 1: To bypass SAMSUNG account lock S5 or any devices, tap Emergency Call button on the lock screen. Step 2: Dial an emergency call like 911 or something else, then tap Call button. Method 1: How to bypass Google Account Verification FRP using Google credentials. This is the easiest way to take care of FRP lock or block and perform an FRP bypass on any Android device is.
Method 1: How to bypass Google Account Verification FRP using Google credentials
This is the easiest way to take care of FRP lock or block and perform an FRP bypass on any Android device is by using the registered Google credentials. This is how FRP is supposed to be unlocked and it should be your primary option in this situation. Basically, what you want to do is to enter the correct Google username and password and that's it. Don't forget: FRP was designed to deter thieves from using a stolen device as well as to revalidate access to it if you are the legitimate user. If you can't provide the correct username and password, then you can consider resetting your password instead.
This workaround only works if your device is currently connected to the internet. This means that its mobile data or WiFi must be enabled ahead of time. This usually happens in cases wherein a user factory reset the device but did not turn off WiFi or mobile data before doing it. Resetting your Google account password must also be done using a different phone or device like a computer. Here's what you need to do exactly:
Reset your Google account password
If you forgot your password, go to

https://accounts.google.com/signin/recovery. You'll be asked to confirm if you have the right account by entering the email address or phone number associated with that account.

Choose a password that you haven't already used with this account.
Recover username
If you forgot the username for your Google account, go to https://accounts.google.com/signin/usernamerecovery?hl=en. Just like in resetting your Google password, you'll need to enter the recovery email of your forgotten account. This can be another email or phone number.

In your recovery email (the other email Google will send recovery instructions to), find the email from Google and follow the steps.
Once you've done any of the two procedures above, try to do FRP unlock again using the new password.
How to check which Google account to reset
If you have several Google accounts and can't figure out which one was used on the device, go to https://www.google.com/android/devicemanager using another device. Then, log in with your Google username and password and check the list of devices associated to that account. do the same process for each and every Google account.
However, if you have Google account lock issues and is unable to perform google account bypass — try the next solution.
Method 2: How to bypass Google Account Verification FRP by flashing
If you are a legit buyer of a preowned device and there's no way to unlock FRP using the first method, then the best shot for you is to let someone flash the software. This is not an official suggestion from Samsung so you won't be able to get help from them with this one. Flashing means manually installing a new or stock version of the phone's firmware. This requires a special set of software tools and some Android knowledge to pull off. This was originally the way for manufacturers to wipe a device but it soon found its way to Android community. Understandably, bright Android 5 users and other versions then began using this procedure to modify stock firmware on devices as well as to force non-official firmware on smartphones. There's no universal way to flash Android devices and variations in some steps even exists for the same phone models. It is extremely risky even for seasoned Android users so we suggest that you let a technician or someone with experience to do it for you. Flashing your device can brick it and in some cases, even result to permanent damage. Do it at your own risk.
Bypass Frp Galaxy S6 Edge
Method 3: Bypass Google Account Verification FRP by asking support from OEM
If you are the original owner of the device and nothing has worked so far, we highly recommend that you get help from the maker of the device. For instance, if you have a Samsung phone, you can visit your local Samsung Service Center so they can flash the software or do Samsung FRP bypass. When it comes to lock FRP, Samsung requires that you also show the original receipt or proof of purchase so be sure to have that with you when visiting them to perform FRP unlock . Remember, FRP is a security feature and they want to make sure that only the owner of the device asks them for help. They may also ask you for a valid ID to ensure that you are the person listed in the receipt. Once you identification has been verified, then they can go ahead and perform FRP bypass Samsung device.
Method 4: Follow unverified tricks
Third party and unverified ways to unlock FRP exists all over the web but you should be careful with them. Samsung and other phone makers have already made great strides to fix loopholes to strengthen FRP so there's no guarantee that these methods still work at this time. Some of the ways to unlock FRP, with even some of them claiming they can be done remotely, are not free. If money is not an issue, then go ahead and use them. Since they are not officially supported by Google and phone makers, it's also possible that they can compromise the security of the device afterwards. We haven't not actually used any one of these unofficial ways to unlock FRP so we can't recommend any one of them. In general, we won't suggest that you even try but since it's your phone to begin with, it's for you to assess whether or not they're worth taking the risks.
Most of the fixes for FRP include the use of a computer to bypass FRP without a computer fully. It can be harder for some people to get a computer to fix such errors as an FRP lock.
In these troubleshooting solutions, you will need to connect your device with the computer via USB cable and run it through software to fix it. For some people, this can get very hard to follow up as it will have plenty of steps that the user needs to follow to achieve a fully unlocked phone at the end.
FRP lock, if used well, will work as one of the best pieces of software that protect your phone from anyone to use the phone factory reset settings. The newer model of the android system has FRP enabled in their devices. So the user would have better control over the device's features and functions. FRP allows only the device's owner to use the device without providing a correct Google ID and password to unlock it. This makes the factory reset harder for the owner of the device if they forget the id to Google account and password.
There are still other ways you can bypass FRP without a computer. In this article, we are going to see all the methods that you can apply to do it without a computer.
Method 1: Bypass FRP without a computer by FRP Removal Online Service
Samsung reactivation unlocking service would be a good alternative to the computer-enabled way to unlock your FRP lock. The only thing you will need here is all the details of your phone, so the online service will create a unique user ID and password that would match the Google account associated with your device. If you have a Samsung device that has the FRP lock error, then you can use this online service to fix the error. You don't need any technical knowledge to figure out how this system works. Nor does this process have any various steps that you need to follow to make that happen.
Once you use their service, they will give you their solution within 24 to 72 hours. Let's get into the negative aspect of this service. Although you will get your fix in time, the cost will differ from one phone to another; it's not fixed. You might be looking at spending more than you bargained for if you go by this method of unlocking your FRP. Another negative element of this service that it only supports Samsung smartphones.
If you have a Samsung smartphone, then you can use this method to bypass FRP without a computer.
Also, click to learn more about how to bypass FRP with PC with ease.
Method 2: Bypass FRP without a computer Through APK
FRP bypass APK helps you to get over the FRP lock on your phone. It can be used on any android device. Making it easier for you to bypass FRP without a computer. So far, many users have used this APK to fix their problems. Open the play store; you will see 4.1 stars on the app review section. That tells you how many people have used this piece of software to fix their problems. Let's see what it does on your phone to accomplish what it says it does?
One of the best things about FRP bypass APK is that it is free to use. You don't have to pay any additional or extra amount to fix the problem on your phone. You can install it through the play store and follow all the information that will be on display on the screen. Another best thing about this APK file is that it is shareable through the flash drive. Some software would only install on only one device. Sharing would have you download it all over again, and type in the information details again to launch the program.
Here you don't have to deal with any of that as it provides a much simpler interface for a product that doesn't charge anything to unlock your FRP on your device. Now let's take a look at the negative elements of the device. This app does work, and it will remove the FRP on your phone, but it can get very hard to find the app on the play store, as it is buried under thousands of apps that promise to do the same thing, but they actually don't. Some of them are malware disguised as a helpful tool.
Another negative thing about this app, that it doesn't support all android devices. It would be best if you had the right handset to make the app work on your phone. This can get very annoying because it takes so long to find the right software and to waste time to figure out if your phone supports the app or not. Or vice versa.
Verizon Galaxy S7 Frp Removal
Method 3: Bypass FRP In Simple Click via iMyFone LockWiper (Android)
If you tried the above method didn't see the proper result, then this is the app you will need to set the right tone on your phone. No longer you have to deal with expensive services that may or may not deliver the service that they promised to do. You can use the iMyFone LockWiper (Android) app on your phone to deliver results faster and effectively remove any error you are facing on your phone that prevents you from unlocking the phone.
Bypass Frp Samsung Galaxy S5 Without Pc
If you are stuck at the Google account verification window for days, getting nowhere with the solution, and have tried different methods both using a computer or not. iMyFone is just the software you need to do it. It is basically a toolkit that can unlock your FRP lock off your phone, if your screen is locked, that can be a password, to a pin to a pattern. Then LockWiper will remove the screen lock in a matter of minutes. It can also remove the facial detection lock on your phone. You can bypass FRP without a computer with this software in just 5 minutes, and you don't have to type in a password to do so.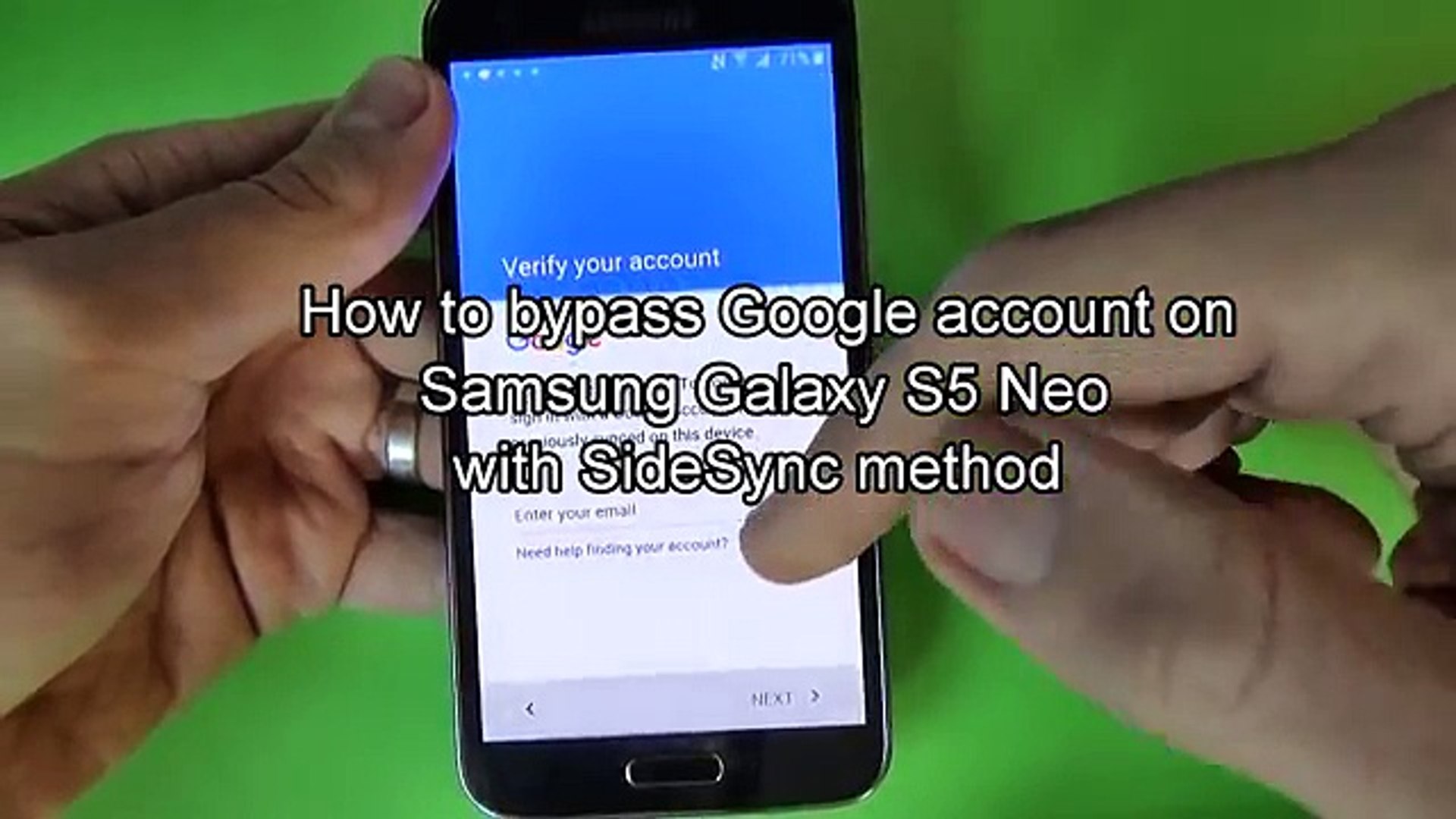 If you are worried about the safety of the device, you don't have to. iMyFone app is trusted, and many users have seen successful results in trying out this app on their phones. This app works with every phone, supporting a wide range of the android system. It doesn't matter what type of android phone you have; this piece of software will take care of the problem that you are facing on your system.
Follow the steps below to use iMyFone LockWiper to unlock FRP on your device.
Samsung Galaxy On5 Frp Lock
Download iMyFone LockWiper (Android) on your computer, then connect your device to the computer via USB cable.
If you are having trouble with installing the LockWiper on your computer, then allow the app to run through the firewall system.
After launching the app, you are going to see two options on the display. One is to unlock FRP, and the other is to remove the screen lock.
Since the title of the article says Bypassing FRP, select Remove Google Lock (FRP)
If your device is connected to the system, then it will automatically detect the device.
Click on next and type in the brand's name of the phone and the name of the device, then click on Next.
Here enter more details about your phone, such as PDA, country, and carrier details to continue. Click on download, so the program will start to download the right data package to your device. Wait until it gets done after that press 'Start to extract.'
Galaxy S7 Frp Bypass 2017
Enter '000000' to install the data package. Enable USB debugging on your phone.
Follow the instruction on the screen, enter your phone on the downloading mode to download the firmware package on the device, then installation of the firmware package will take care of the FRP lock problem from your phone.
Google Frp Bypass Galaxy S7
Conclusion
Now that you know what kind of methods you need to follow to bypass FRP without a computer as it will be simpler but sometimes more expensive than the usual method that deals with the same problem. It is upon you to decide if you want to bypass FRP without a computer or with one. A lot of factors come into play to decide which is the best step to find the perfect solution to your problem. Not everyone can carry a computer with them at all times. If you found that to be one of your situations, then follow the methods above.