Supported Model
Samsung FRP bypass is the best solution to unlock Google verification from Samsung smartphones and tablets in 2018.In this guide I will elaborate a new method of (2018) for Samsung Galaxy devices, about the use of Samsung FRP bypass tool to unlock Google Account Verification.
Install Samsung FRP Bypass app: Tap on "Google Account Manager ". Wait few seconds until you receive "Samsung Internet" popup window. Tap on "Settings", and then enable the option of "Allow from this source". Now tap on "Back key". Tap on Next Next Install Done. Congrats, we have installed google account manager. Hey guys!This is my new video for SAMSUNG Galaxy A5 2017 (SM-A520F) U8/BIT8/REV8 FRP/Google Lock Bypass Android 8.0.0 Feb 2019 Patcha520f frp bypass 8.0,a520. Hey guys!This is my new video for SAMSUNG Galaxy J7 2018 FRP/Google Lock Bypass Android 9 WITHOUT PC - NO SIM DAMAGE - NO TALKBACKAll SAMSUNG 2020 Android 9. Bypass FRP Samsung J7 Pro Via Hushsms method. 1: Insert a sim card with an SMS plan in an unlocked phone. 2: Download and install Hushsms then click on open. 3: Insert a sim card without pin code In the FRP locked device. 4: Turn ON The FRP locked device and Connect it to a Wi-Fi network.
Unlock Samsung Galaxy J7 2018 [SM-J737T]
Featured
• Remove Googe Account (0.5 Credits).
• Unlock SIM (Unlock App: 8 Credits)
• Unlock SIM (Phone Ask CODE: 8 Credits).
• Repair IMEI ( 30 Credits).
Download Now
How to Unlock FRP (Remove Google Account) SM-J737T One Click By SAMHub Tool
SAMHub Samsung FRP Removal tool is game-changer in factory reset protection topic. For now, on you can unlock all SAMSUNG devices in just a few minutes. So if you forgot your Google password and email this solution is for you. Buy SAMHub Samsung FRP Tool account and unlock Samsung Galaxy J7 2018 your phone:
By using this FRP unlocker you can remove Google Account Protection, Google Account Verification, Factory Reset Protection and Samsung Account Protection in any Samsung phone, any Android version, any Security Patch. All you need to have is a Samsung phone, USB cable and a few minutes of your time. So let's remove Google account lock on any Samsung.
Necessary FRP Tools and Drivers
USB cable
Buy SAMHub Samsung FRP Tool account.
WARNING!
Samsung Galaxy J7 Pro Frp Unlock Google Account Bypass 2018
Removing Google Account on the phone will erase all of your data.
All described operations you are doing at your own risk.
If want saves your data do a backup before start.
How to Remove Google Account Verification SM-J737T from the Samsung device
Download and install Samsung Drivers.
Download and unpack the Samsung FRP Tool.
If antivirus sees SAMHub Samsung FRP Tool like virus necessary is disable it or add this software to exclude list (this problem is because software file is encrypted and antivirus can't scan it).
Turn on the software that you unpacked before.
Enter the login and password that you bought at the beginning.
If you enter correct credentials to your FRP account press the login button
Turn on the phone by the power button and wait until seeing the welcome creator on the screen.
Connect the Samsung phone to USB cable and wait 30-60 seconds to install all drivers for it.
Press the check button to read information from phone and see a connection condition with a computer
If everything read correctly with information about FRP status mean all is ok and can do the next step
Use Unlock FRP button and wait until process end with success(usually take 30-60 seconds)
Disconnect Samsung device from cable and press ok button then close application.
On the device can bypass welcome creator without ask about Google account.
Excellent FRP Samsung Galaxy J7 2018(Factory Reset Protection) is removed/erased.
How to Unlock Netnork (Unlock SIM) Samsung Galaxy J7 2018 SM-J737T By SAMHub Tool
SW Information and tap Build number seven times. Return to the previous screen to find Developer options at the bottom. On some devices, the Developer options screen might be located or named differently.
Samsung Galaxy J5 Google Account Bypass 2018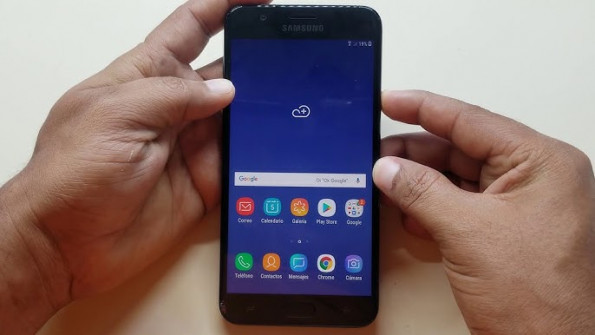 -->