ADB Bypass FRP Tool is a small application for windows computer created by FRPFile Team, which allows you to bypass FRP from android devices. In order to do this, you need to enable ADB mode in your device then only you can bypass FRP using ADB Bypass FRP Tool.
Factory Reset Protection (FRP) is a security method that was designed to make sure someone can't just wipe and factory reset your phone if you've lost it or it was stolen. But, By using ADB Bypass FRP Tool, you can simply remove this protection. Then you will be able to wipe and factory reset your phone as desired.
In order to use the ADB Bypass FRP Application, you need to install the Universal ADB Driver on your computer.
Samsung Adb Sideload Frp Bypass
After installing the Android Universal Driver on your computer you need to connect your Android device to the computer using the USB data cable. And once your Android device is detected by the computer, you need to launch the Tool.
Download ADB Bypas FRP Tool latest version for windows. ADB Bypass FRP Tool is a powerful tool, which allows you to bypass FRP lock on android smart phones and tablets. You can bypass frp lock on almost all android devices like Samsung, Oppo, HTC, LG Huawei, Lenovo, Micromax, Lava etc. Samsung ADB FRP Reset Tool. On this post, you will find the official link to download Samsung ADB FRP Reset Tool for windows on your computer. The Tool shares in a zip package, which contains Flash Tools and How to Flash Manuals. The Tool helps you to remove FRP Lock for Samsung Smartphone. Below are step-by-step guides to remove Google account by using GSM Flasher tool. Download and launch GSM Flasher FRP Reactivation Lock Remover Pro tool 2017. Then connect your locked Samsung device to computer via a USB cable. Choose your device model from Support Device Models. When i succeed to with combination file and i active adb mode for some phone cant remove it with GSM Flasher ADB Bypass FRP Tool so there any other way?, 20:58. Samsung FRP Tools is compatible with all versions of Windows System, Windows XP, Windows 7, Windows 8, Windows 8.1, Windows 10 (x32 or x64 bit). If in case you were looking for the latest version of the Samsung FRP Tools, then use the following links to get it on the computer: Read More: Download Samfirm FRP Tool – Samsung FRP Bypass Tool 2021.
ADB Bypass FRP
Gsm Flasher Frp Tool Download
Package Name: ADB_Bypass_FRP_Tool.zip
Alternative Name: ADB Bypass FRP
Package Version: v1.0
Package Size: 823 KB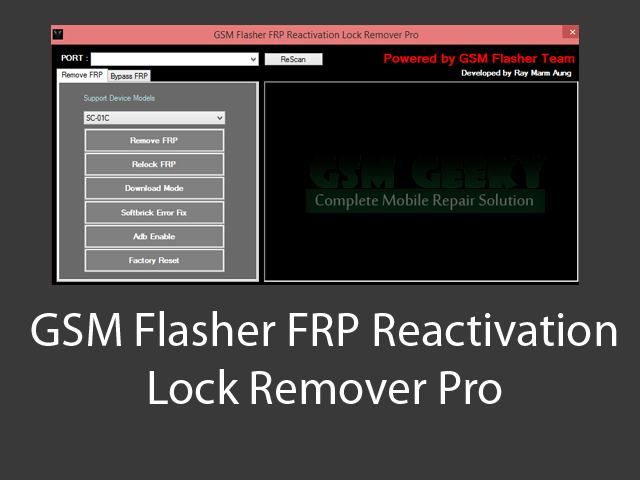 Readme Once:
[*] Compatibility: The ADB Bypass FRP Application runs perfectly on Windows XP, Windows Vista, Windows 7, Windows 8, Windows 8.1 and Windows 10 (32 bit and 64 bit).
[*] Take a Backup: If you are willing to try the above tool, then please take a backup of your personal data from your Android Smartphone or Tablet. As flashing any Firmware or recovery may brick the device.
[*] Other Tools: If you are searching for other useful tools then follow our Tools Section to download free GSM Tools.
Gsm Flasher Frp Removal Tool
[*] Credits: ADB Bypass FRP Tool is created and distributed by FRPFile Team (developer). So, full credits goes to FRPFile Team (developer) for sharing the tool for free.
Gsm Google Frp Flasher Tool
What Is ADB Bypass FRP Tool ? It same like GSM Flasher ADB Bypass FRP Tool.
Download ADB Bypass FRP Tool latest version for windows. ADB Bypass FRP Tool is a powerful tool, which allows you to bypass FRP lock on android smart phones and tablets. You can bypass frp lock on almost all android devices like Samsung, Oppo, HTC, LG Huawei, Lenovo, Micromax, Lava etc. This tool is 100% working. It is tested by me. You need two things to bypass your android device FRP lock.
Which are below.
A USB Data cable.
ADB Drivers must be installed on your computer.
In android OS ADB is a very important command that enable you to communicate with your device functions, like installing the applications and debugging your android device. Sometimes it will locked and you want to bypass/unlock it, then you need a software for doing this. ADB bypass FRP tool is one of the best software to unlock these locks. It works more better than others software. It also allows you to perform many more functions like reset your android devices. So get the latest ADB Bypass FRP Tool from our server and start removing FRP lock of your device in just few minutes. ADB Drivers also required for this tool. Download link for ADB drivers is also given at the bottom.
How To USE ADB Bypass FRP Tool?
Download ADB Bypass FRP Toolfrom the link.
Download ADB Drivers.
Launch ADB Bypass FRP Tool.
Enable USB Debugging mode on your device.
Connect your device to your computer Via USB Data cable.
Finally click on the Remove FRP button.
You have successfully removed your android device FRP Lock.
Some Cool Features Of ADB Bypass FRP Tool:
Compatible with all versions of android OS.
Its free, and easy to use.
Remove FRP lock on all android devices having any android version.
DOWNLOAD
ADB Bypass FRP Tool
Samsung Android USB Driver for Windows
SEE MORE
Bypass FRP Google Account Samsung Galaxy A7 2018 SM-A750 No need PC
Bypass FRP Google Account All Samsung devices without PC
TAGS:ADB Bypass FRP ToolADB Bypass FRP Tool 2018ADB Bypass FRP Tool 2019