The Samsung FRP Bypass APK is a tool that has been designed with the specific purpose of unlocking the Samsung Android phones without the need for a computer. This tool works around FRP so that even when you forget your Google login, you don't have to use it to log in to your phone after doing a reset. IMyFone Lockwiper (Android) FRP unlock tool is the latest unlocking software application that can be used to unlock any Android phone including FRP lock without putting the Google account and password. If for any reason you are unable to get into your phone, then LockWiper (Android) will help you get access to the phone.
Samsung FRP lock remove. This document created at Apr 11, 2017, 1:00:55 PM and modified at May 31, 2021, 7:39:55 AM. After 1-5 minutes, we'll permanently remove the FRP lock from your Samsung device. Unlock Samsung FRP Lock NOW. Top Benefits of Using UnlockBoot's Google FRP Removal Service. Official & Verified Samsung FRP Removal solution – everything will be processed by an official tool from Samsung.
Frp Lock Removal Tool Samsung
If you are stuck up in a similar screen like the one given below then you are in FRP Lock on your Samsung Galaxy Android Smartphone. FRP lock means Factory Reset Protection which is a new security feature on android phones. Once FRP is activated, it blocks use of your Galaxy smartphone after a factory data reset, till you log in using the same Google username and password you previously set up on it. If you don't want to go through any of these, just remove the Google account before making a factory data reset.
Without the previous Google Account you have used on this Samsung Galaxy Android Smartphone you will not be able to proceed any further. This is a new security feature from Google which is introduced in Android Lollipop, Marshmallow and up.
Sponsored
However if you need professional support for 'FRP Unlock' Unlockjunky is the best option.
From the United states, the Unlockjunky team has been the trusted source for all Samsung Galaxy FRP unlocks since the beginning!

Unlock your Samsung now!
So how to bypass FRP lock on your Samsung Galaxy Android Smartphone?
Disclaimer: We advice you to use this tool wisely and legally. This tool is only for those who are accidentally stuck in FRP lock while factory data resetting their own phone and not for any illegal purpose.

Steps to remove FRP lock on your Samsung Galaxy Android Smartphone
1. To start with first you need to hard reset your device using the button combination'Power + Volume UP + Menu'.
2. Now you need to download the Samsung bypass tool from the below given link and extract it to your PC.
3. Once extracted copy the 'Bypass any Samsung Google Account Lock.apk'file to a USB pendrive with OTG feature (or you can use a OTG cable with a normal pendrive).
4. When you connect the OTG USB storage file manager will appear on your Galaxy Phone.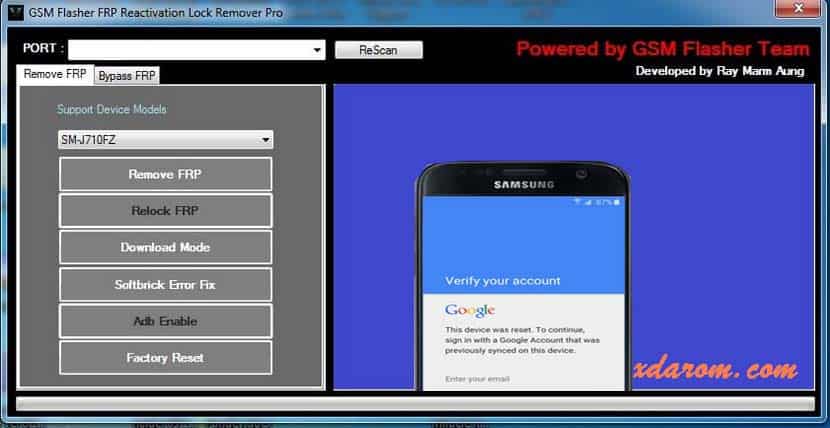 5. Now tap on the .apk file to install it. If the installation is blocked then go to 'Setting->Security and give a check mark to 'Unknown sources', once done install the .apk file.
Frp Lock Removal Tool Samsung Galaxy
6. In the next step please open the app and you will get your Galaxy Smartphone's 'Settings' menu.
7. Now tap on Back up & Reset-> Factory data reset ->Reset device -> Delete All. Your phone will restart and once done the FRP lock will be removed from your phone. You will no longer be asked for any Gmail account during the setup.
This method is compatible on Samsung Galaxy Note7, Samsung Galaxy S7 Edge, Samsung Galaxy S7, Samsung Galaxy On5, Samsung Galaxy J7, Samsung Galaxy J5, Samsung Galaxy E7, Samsung Galaxy E5, Samsung Galaxy A7, Samsung Galaxy A5, Samsung Galaxy A3, Samsung Galaxy S4, Samsung Galaxy S4 Zoom, Samsung Galaxy S4 Active, Samsung Galaxy S4 Mini, Samsung Galaxy Note 3, Samsung Galaxy S5, Samsung Galaxy S5 Active, Samsung Galaxy Note 4, Samsung Galaxy Note Edge, Samsung Galaxy S5 Plus, Samsung Galaxy S6, Samsung Galaxy S6 Edge, Samsung Galaxy S6 Active, Samsung Galaxy S6 Duos and Samsung Galaxy Alpha.
The above method may not work on certain models, if this is not working for you please try the below tutorials which uses a different but effective method.
If you have faced any issues while removing the FRP lock on your Galaxy Android Smartphone, please feel free to post it in the comment section below, don't worry I will help you as fast I can.
Frp Lock Removal Tool Samsung Download
If 'How To Remove FRP Lock On Samsung Galaxy Android Smartphone?' tutorial really helped you, please give a like/share on social networking websites by using the below given buttons.